With the strong growth of disposable vape market, a variety of kinds of disposable vape products appeared. We can simply divide them into three parts by their puffs: less than 1000 puffs, 1000-3000 puffs, and more than 3000 puffs. Besides some vape starters who are just getting used to vaping or want to find their favorite e-juice flavor by trying small puffs disposable vapes, there are more and more vapers chasing large puffs of the disposable vape devices and direct-to-lung vaping method.
What are long-lasting disposable vape features?
1. Large E-liquid Capacity
As the main characteristic of disposable vape products, they always provide users with pre-filled e-juice pods. To meet the vapers' needs for long-lasting vaping, the e-liquid capacity of the disposable vape should be large enough.
2. High Puff Count
To judge whether a disposable vape is long-lasting, the primary criterion is high puff count. The low puff counts disposable vape which is less than 1000 puffs often lasts a few days, and they are fit for some vape starters or who want to try more new flavored e-juice. The high puff counts device which is often more than 3000 puffs will give you weeks of tasteful vaping experience.
3. Rechargeable or Large Capacity Battery
Compared with the regular disposable vape device, in order to match the large capacity of the flavored e-juice, the demand for the battery capacity of the disposable device is higher. The disposable vape brands choose to offer large capacity battery or rechargeable battery considering its weight.
If you are looking for a long-lasting disposable vape, Vaal has listed 3 products that can meet all your needs for a boost puff disposable vape device.
3 Longest lasting Disposable Vape
Vaal Max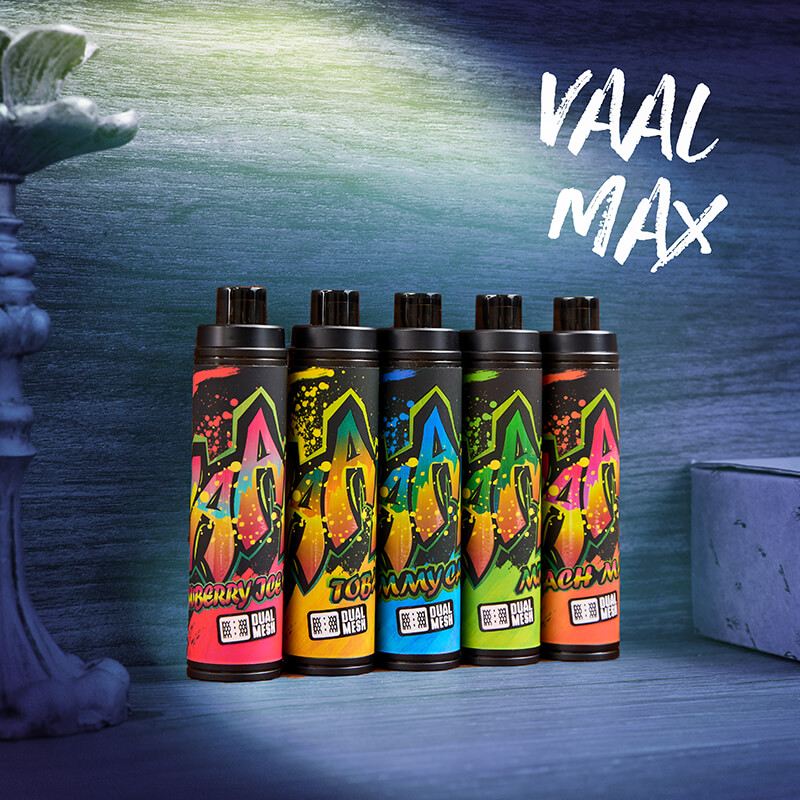 Vaal Max, the first real sub-ohm dl disposable vape kit from Vaal, combined with 0.7ohm coil resistance. Equipped with dual mesh coil and innovative Widewick™ technology which features a comprehensive e-liquid intake and lock-in mechanism, Vaal Max is able to provide users with a smooth draw and strong throat-hit feeling. 8ml large e-liquid capacity comes with 17mg nicotine strength, which guarantees about 3500 puffs of direct-to-lung vaping. The built-in 850mAh battery lasting for hundreds of puffs can be recharged at any time to make sure you can have a satisfying vaping journey anywhere.
The Vaal Max sub-ohm disposable vape kit offers users 16 flavors.
Product Specification
Size: 25mm*104mm 
Battery capacity: 850mAh 
E-liquid capacity: 8ml
Coil Resistance: 0.7ohm (dual mesh)
Nic. Strength: 1.7%/1.2%
Charging: DC 5V/0.5A(USB-C)
Find more details about Vaal Max here.
Vaal E5000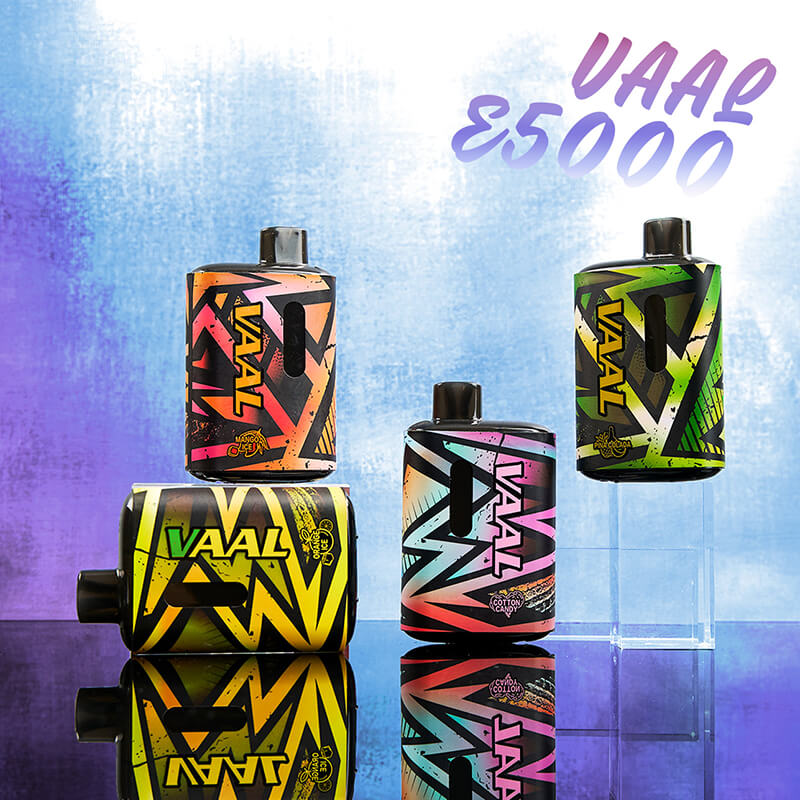 As one of the most popular disposable vape devices from Vaal, especially in the US, Vaal E5000 attracts lots of vape enthusiasts' attention when it comes out. Besides its street art design and gradient colors, the box-like shape is also suitable for hand-holding. 12ml large flavored e-juice cooperating with the internal 650mAh rechargeable battery can last at least 5000 puffs of perfect vape and make sure every puff with intense palate. Vaal E5000 has provided 18 flavors to choose from.
Product Specification
Size: 82.5*49*19mm 
E-liquid capacity: 12ml
Puffs: up to 5000
Nie. strength: 5%, 3%, 1.7%
Battery capacity: 650mAh (rechargeable) 
Charging: DC 5V/0.5A (USB-C)
Coil resistance: 1.2ohm (mesh)
Find more details about Vaal E5000 here.
Vaal EB5500
The new Vaal EB5500, one of Vaal long-lasting disposable vape pods, comes with 12ml large e-liquid capacity and 1.2ohm mesh coil which can provide you approximate 5000 puffs of whopping cloud. The innovative Widewick™ technology ensures a smooth taste with every puff. Equipped with 900mAh rechargeable battery, you can enjoy a pleasant vaping journey anytime and anywhere. Vaal EB5500 offers up to 28 flavors and you can always find the one you like.
Product Specification
Size: 25mm*104mm 
Battery capacity: 850mAh 
E-liquid capacity: 8ml
Coil Resistance: 0.7ohm (dual mesh)
Nic. Strength: 1.7%/1.2%
Charging: DC 5V/0.5A(USB-C)
Find more details about Vaal EB5500 here.